The Glory Heights Vinhomes project, situated next to Vincom Mega Mall, is a segment of the Vinhomes Grand Park urban center officially open for sale. It holds a central location, offers high-end 5-star amenities, and features a policy of 0% interest support for up to 7 years. The project has garnered considerable interest from valued customers.
PROJECT OVERVIEW
GLORY HEIGHTS
(Updated September 22, 2023)
» Project area name: GLORY HEIGHTS - Vinhomes Grand Park
» Legal project name: Lot B3 belonging to Zone B of the Phuoc Thien residential area and park, Long Binh and Long Thanh My wards, Thu Duc City, Ho Chi Minh City
» Location: Opposite the largest Vincom Mega Mall in Ho Chi Minh City, situated on the Rodeo shopping boulevard and adjacent to the 36-hectare park
» Total project area: 31,175m2
» Scale: 5 towers ranging from 24 to 39 floors
» Legal basis: Permanent ownership
» Apartment area: 47m2 - 108m2
» Selling price: From 2.5 billion VND/unit
* For customers not using the loan package:
◘ Comfortable payment for 2 or 3 years before receiving the house, averaging from 1% GTCH/month
* For customers using the loan package:
◘ Only 25% payment upon house delivery, averaging from 1% GTCH/month
◘ Support for 0% interest loan up to 24 months, 48-month grace period for principal.
PROJECT LOCATION
The Glory Heights segment is located in the central area of the Vinhomes Grand Park urban district 9, with the advantage of three frontages bordering other segments and the most high-end internal amenities."
The neighborhood benefits significantly from the infrastructure development, such as the elevated Belt Road 3, enabling residents to conveniently travel to different destinations. Moreover, it's the final station for the Vinbus electric bus route, facilitating convenient transportation for all residents while protecting the environment. Facing the Dong Nai River, the frontage offers a fresh, cool, and prosperous feng shui environment for all residents.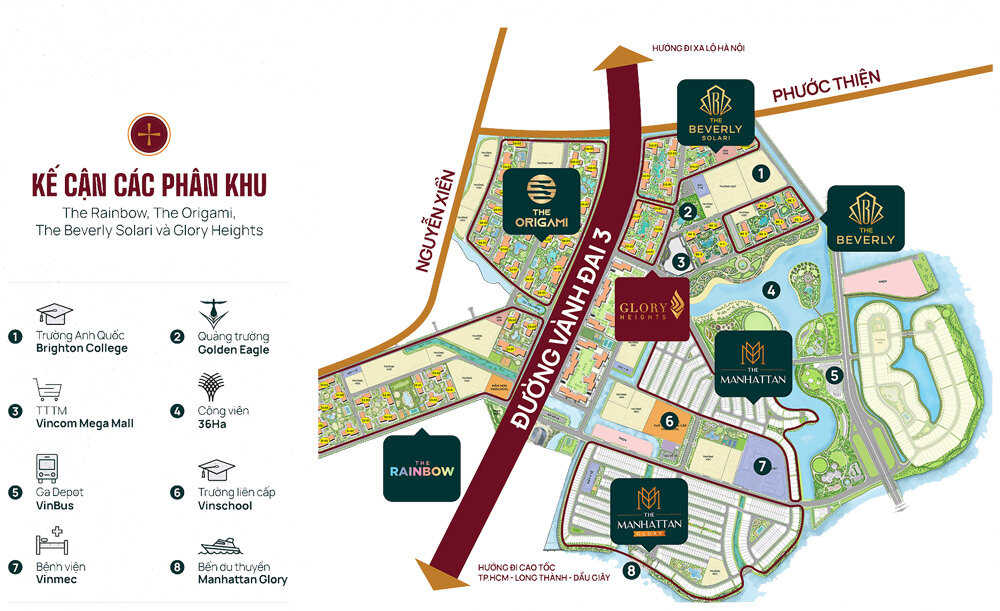 The location of Vinhomes Grand Park is particularly unique, lying in a rapidly developing and highly potential central area of District 9 - Ho Chi Minh City. The project covers a construction area of over 271 hectares and encompasses a vast green living space along with a comprehensive, modern utilities system.
With prominent nearby major roads such as Mai Chi Tho Avenue, National Highway 1A, City Belt Road 2 and 3, this strategic location has made Vinhomes Grand Park the top choice for those seeking new real estate investment opportunities.
Sign up to receiveinformation